Home Visits
Whilst we encourage our patients to come to the surgery, where we have the proper equipment and facilities available, we do appreciate this is not always possible. In this respect, if you do need a home visit, you can help us by calling reception as early in the morning as possible.
You may only request a home visit if you are house bound or are too ill to visit the practice. Your GP will only visit you at home if they think that your medical condition requires it and will also decide how urgently a visit is needed. Please bear this in mind and be prepared to provide suitable details to enable the doctor to schedule house calls.
You can also be visited at home by a community nurse if you are referred by your GP. You should also be visited at home by a health visitor if you have recently had a baby or if you are newly registered with a GP and have a child under five years.
GP Access Hubs – Evening & Weekend Appointments
Registered patients of Lambeth Walk Group Practice can access extended opening times at four specially selected GP Access Hubs in the borough.
Our GP Access Hubs offer appointments seven days a week at the following times:
12:00 – 20:00 Monday to Friday
08:00 – 20:00 Weekends and bank holidays
For further information you can visit www.lambethgpaccesshubs.co.uk.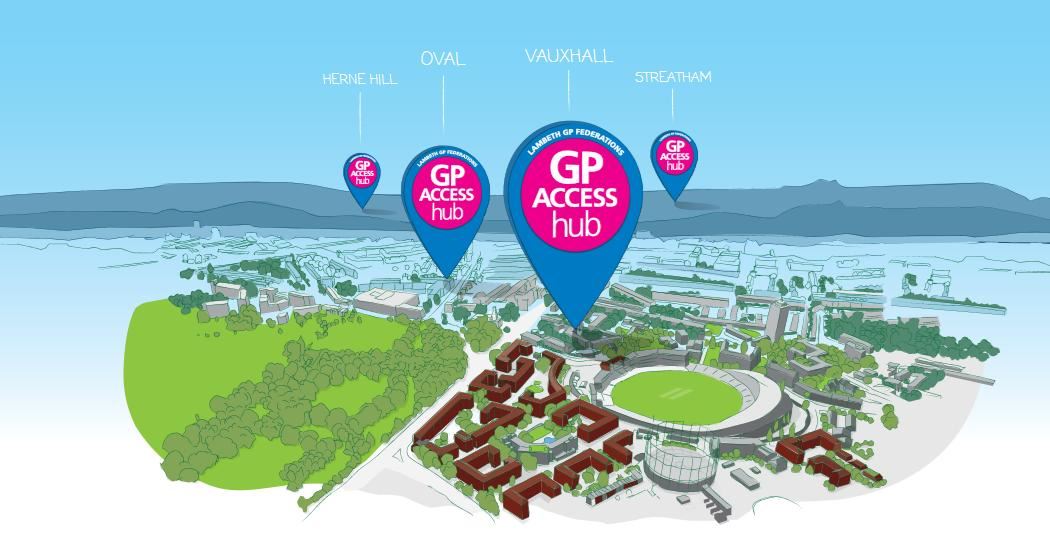 Chaperones
You are very welcome to be accompanied by a trusted friend or relative at your consultation if you wish, and this is all the more important if English is not your first language, or if you feel you might not be able to express what you need clearly to the doctor or nurse.
In addition, for intimate examinations, you will be offered the choice of having another professional clinician present at the examination. This is called chaperoning.
If we can't allocate a chaperone when you wish one to be there, then we can reschedule your examination to another time.
Interpreter
At Lambeth Walk Group Practice we might have patients which have a language problem in communicating with our clinical staff during consultations.
If you need an interpreter for your consultations the reception staff will be able to arrange this for most languages, providing you inform reception first.
Not Registered for Online Services?
Text Reminder Service
We have a texting service which allows you to receive confirmation and reminders about your appointments.
To have this service you will need to register by completing a consent form.
Please remember to update your contact details with us when you change address, telephone numbers and email address.
Training Practice
Historically, Lambeth Walk Group practice has been owned and run by King's College to act as a training practice for GP's and medical students. Since 2006 the practice separated from King's, while maintaining a close working relationship with the college.
The practice regularly trains medical students from year 1 through to year 5. It also currently partners with King's to train international medical students and the London Deanery to train GP Registrars.
You may occasionally be asked for consent for a medical student to be present at your consultation. You are under no obligation and can of course refuse.
The practice is also regularly involved with clinical trials and pilots which often provide additional medical services to our patients. We pride ourselves on providing an excellent standard of medical care to all sectors of our community.
Chasing a Hospital Appointment
Have you been referred by your GP recently?
Have you not heard or received anything about an appointment date?
If you have any questions about your hospital appointment or admission, please contact the department that will be treating you to chase and arrange you booking.
Click on the Links below for the details of services at Guy's and St Thomas' Hospitals, Evelina Children's hospital and Kings College Hospital
Guys, St Thomas' and Evelina Hospitals